Our History
Holy Spirit was formed in 2010
St. Joseph Parish – Woodstown, NJ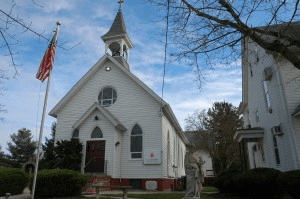 The first parish in Salem County was St. Mary's in Salem, founded in 1848 by Father E. S. Waldron. 
He served for one year, and then visiting priests of St. Mary's said Mass in what would become the parish boundaries of St. Joseph's.  In 1851, Father John McDermott was assigned as first resident pastor of St. Mary's – which then served the areas covered by Gloucester, Salem, and Cape May Counties.In 1853, the Diocese of Newark was established, covering all of New Jersey.  In 1856, Father Cornelius Cannon, pastor of St. Mary's, said Mass on alternate Sundays in the homes of Matthew Durr, of Sharptown, and Michael Byrnes, of Harrisonville.  He started a parochial school in 1859.When Father Secundino Pattle succeeded Fathe Cannon in 1870, the number of Catholics in Woodstown was deemed sufficient to warrant their own place of worship.  Each member was assessed $7.50, thereby raising a total of $150.00, and a frame building was started.  A storm leveled the building and the builder was financially unable to rebuild; so the sherriff sold the lumber to pay off the contractor's debts.  However, those early Catholics were a dauntless crew and their second attempt at building resulted in a neat frame church at the fork of Mullica Hill Road and Harrisonville Road.  
The church was 25 by 40 ft.In 1876, Father Peter J. Dernis succeeded Fr. Pattle and the mission at Woodstown, officially named St. Joseph's, was assigned to his care.In 1881, the Diocese of Trenton was created and the Bishop assigned responsibility for St. Joseph's, Woodstown, to the pastor of St. Jospeh's, Swedesboro.  In 1890, St. Joseph's, Woodstown was formally established with its own pastor.  Father Dernis was transferred from St. Mary's to St. Joseph's.  However, by 1894 Diocesan transfers left St. Joseph's without a pastor, and it again became a mission of St. Joseph's, Swedesboro.  The pastor was Father Walter Leahy, and he purchased five lots on what is now Elm Street, from Charles Kuhn for $500 and one lot on Broad Street from Edward Haines for $180.  He also had the church moved to its present location and added a sacristy and twenty-five feet in length – which with new pews cost $2,500.  In 1899, he bought an adjoining lot from Dr. Ewen and erected the present rectory.  He then established the parish cemetery and moved to it the remains of those buried in the old Mullica Hill Road churchyard.  With this done, St. Joseph's was just about established, needing only a resident pastor.  The Bishop sent one in 1899.Father John O'Farrell was the second resident pastor.  He was made responsible for missions at Elmer and at Penns Grove – from which neighboring parishes of St. Anne's and St. James' evolved.  Father O'Farrell and his successors attended these missions on alternate Sundays.In 1901, Father William J. Morrison became the next resident pastor.  In 1904, he remodeled the church; hence the stone with that date that stands in front of the church today. In 1937, the Diocese of Camden was established.  Father John Lubicky, who was pastor from 1962-67, remodeled the church to conform to Vatican II directives. 
In 1963, he purchased the land on which the Woodstown Parish Center now stands.Msgr. Pasquale M. DiBuono, who was pastor from 1980-1992, introduced air conditioning in 1987, and bought the house at 39 Broad Street for use as classrooms for the religious education program. Following Msgr. DiBuono, from 1992-2005 was Father Stephen F. Cervoni.  He purchased the Agway property on Broad Street for use as a parking lot, and was responsible for the building of the Parish Center. Father Edward Friel was pastor from 2005-2009, and was instrumental in utilizing the new Parish Center to bring the parish community together and to reach out to the local community.  As membership in the parish grew, so did involvement in the local community.In 2009, Father Anthony DiBardino was appointed Priest Convener in the process that would merge St. Joseph's with St. Ann's in Elmer and Holy Name of Jesus in Mullica Hill. In June of 2010, the parishes merged to become the Catholic Community of the Holy Spirit.
St. Ann Parish – Elmer, NJ
In 1892, two families, Mr. and Mrs. Frank Iles of Monroeville and Mr. and Mrs. Anthony Kentzinger of Elmer, received permission to have the Mass celebrated at the Kentzinger home each Saturday morning.  (This home was later willed to the Church and much later it became the parish center.) The mission in Elmer was formally attached to the parish of St. Mary's in Salem.  Father Dennis J. Duggan purchased the first church site, and, in 1894, Father Leonard Reich, O.M.C. took charge of overseeing the building of the church.  Ground was broken on June 15 and later the same year, the first Mass was held.  The church was built at a cost of $1,800.As the town of Elmer grew, Father Dolan of Woodbury was given charge of the mission in Elmer; but his duties prevented him from being able to say Mass on Sundays.  So, in 1900, the mission in Elmer was attached to St. Joseph's Church in Woodstown where Father John J. O'Farrell was pastor. 
In March of 1903, Father Richard O'Farrell, pastor of the newly established parish in Glassboro, took over administration of the missions in Elmer and Mullica Hill .In the spring of 1920, after having been closed for six years, St. Ann's was reopened as a mission of St. Joseph's in Woodstown with Father Lawrence Travers as pastor. In April of 1924, Father Francis McClosky was appointed pastor of St. Joseph's in Woodstown in addition to serving St. Ann's – a position he would hold for 21 years.  He said Mass at St. Ann's every Sunday at 10am and followed Mass with instructing High School students in catechism. On June 19, 1961, St. Ann's Mission became a parish of the Camden Diocese with Father Henry Koevoets as the first pastor.  Later that same year, he installed the first air conditioners 
. In June of 1962 Father Joseph McGarvey became pastor.  During his tenure, the property next to the church, on the corner of Penn and Broad Streets, was purchased.  It was refurbished and then used as the new rectory.  In 1965, the present altar was installed, the church was paneled, and the statues of Our Lady and St. Joseph were donated.  Father McGarvey hired a bus driver to transport children to Catholic schools.
Throughout its history, St. Ann's community continued to grow and it's parishioners were very active in parish life.
In June of 2010, St. Ann's merged with St. Joseph's in Woodstown and Holy Name of Jesus in Mullica Hill to form the Catholic Community of the Holy Spirit.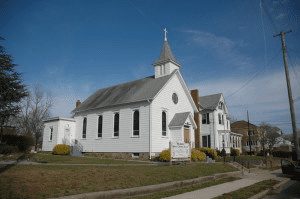 Holy Name of Jesus – Mullica Hill, NJ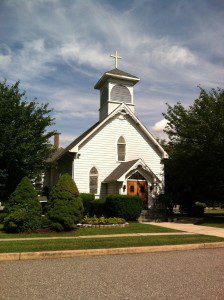 At the turn of the last century, a small group of residents in Mullica Hill gathered for prayer at the home of Mr. and Mrs. Robert Irwin.  Soon after, in March of 1901, Father Walter Leahy, pastor of St. Joseph's Church in Swedesboro, directed the development of a Sunday School for the children. Mr. and Mrs. Warren Atkinson then donated property for the purpose of building a church and providing land for a cemetery. Construction began with the laying of the cornerstone on August 6, 1901. 
On November 24, 1901 Holy Name of Jesus Church was dedicated.  It was originally a mission church to St. Joseph's in Swedesboro, and then, two years later, to St. Bridget's in Glassboro. It wasn't until 1959 that a rectory was added when the house next door to the church was purchased.  It was then that Holy Name of Jesus was assigned its first resident pastor, Father James Gaffney. As the congregation continued to grow, the need for additional space to celebrate Mass and to instruct religious education students became apparent.  Under the direction of Father Ambrose Bryce, pastor from 1980-1996, construction began on a new parish center in 1991 on land adjoining the church. 
In December of 1993 the Mullica Hill Parish Center was officially dedicated. In 1996, when Father Michael P. Rush became pastor, plans were formulated to celebrate a special anniversary of the Holy Name of Jesus church.  For the occasion of its 100th anniversary, the church was refurbished both inside and out.  An historic designation by the State of New Jersey was given, ensuring the church's preservation in the future. In June of 2002, co-pastors Father Anthony DiBardino and Father Dave Grover became part of the community and shared pastoral care.  In February of 2005, Father Grover was transferred to the position of pastor of St. Michael's in Gibbstown.  While Father DiBardino continued to serve as pastor, during the next few years Father Krystoff Wtorek, Father Michael Galea, Father Steven Pinzon, and Father Jerry Gomez served as Parochial Vicars. In June of 2010, Holy Name of Jesus Parish merged with St. Joseph's in Woodstown and St. Ann's in Elmer to form the Catholic Community of the Holy Spirit.
Catholic Community
of the Holy Spirit
The Catholic Community of the Holy Spirit was formed from the merge of the parishes of St. Joseph in Woodstown, St. Ann in Elmer and Holy Name of Jesus in Mullica Hill. Currently there is two campuses (Woodstown and Mullica Hill) and the churches of St. Joseph and Holy Name of Jesus are still in use.